Not only is the Louvre Museum - in French, Musée du Louvre - the world's largest museum and undoubtedly the best known, but it also contains perhaps the most famous painting in the world, Leonardo di Vinci's Mona Lisa.
And that is just the beginning. The Louvre is where you can see Venus, xxx, xxx, xxx, and 35,000 other works of art on display at any given time - just a tiny fraction of the museum's collection of xxx,xxx paintings, sculptures, etc, etc.
Not surprisingly, the Louvre attracts enormous crowds of visitors - xx.x million last year, a number that keeps rising each year. If you don't book a ticket or tour giving you skip-the-line access, two to four hour waits during the busiest times of the year are not uncommon.
Because of the Louvre's enormous size - xxxx, with about xxxx rooms and galleries - there's actually plenty of space inside for visitors to move around except in the areas with the most famous art, which do get extremely congested. Trying to get a close-up look at the Mona Lisa is not for the faint-hearted. Even finding the room with the famous portrait can be challenging if you're unfamiliar with the museum's layout.
So should a visit to the Louvre Museum be on your must-do list for Paris?
Yes, absolutely. Experiencing the Louvre's magnificent art and architecture is a thrill like no other.
And in case you're wondering, no, you don't need to be an art expert or even know anything about art to appreciate what you'll see here.
However ... there are definitely some things you can and should do to ensure the best visit possible, and that's what this article is about. We start with the basics: your options for getting skip the line admission tickets to the Louvre, joining a guided tour to help you navigate (remember those xxxx rooms), and even suggest the top xx things you might want to see.
This is a longer-than-normal article because there's a lot to cover - so if you're looking for a particular topic, use these Quick Links to go straight to the Louvre information you want: xxx - xxx - xx
As you can see, we start with the basics - best ways to avoid lines, top art to see, practical information for planning your visit - and the provide more details about the Palais du Louvre, the magnificent grounds including Tuileries Garden, and other nearby museums and landmarks. Because the Louvre is so close to so many
After its beginnings as a 12th century fortress, the Louvre served as a royal residence from the 14th century until the French Revolution when it opened to the public as France's national art gallery and museum in 1793.
You can see parts of the original fortress foundation and moat on the lower ground floor level.
If you had to pick the most beautiful sight in Paris, Sainte Chapelle's 15 soaring medieval stained glass windows in jewel-like hues of crimson, blue, gold, green, and purple might top your list.
Go to: Skip-the-Line Tickets | Guided Tours | Concert Schedules & Tickets | Hours & Location | Fun Facts | Stay Nearby | Dine & Drink Nearby | Map | More to See & Do
Built in spectacular High Gothic style by French King Louis "The Pious" IX to house his collection of sacred Crucifixion relics including Christ's Crown of Thorns, Sainte Chapelle was completed in 1248 on Île de la Cité (one of the two small Seine River islands) in a former royal palace-fortress, Palais de la Cité, until recently home to the Palais de Justice.
When you visit Sainte Chapelle, you'll enter on the ground floor, pass through a lovely first floor chapel once used by palace staff and now sharing space with a bookshop/souvenir stand, and walk up 33 well-worn stone steps enclosed by a narrow circular stairwell.
At the top, take a deep breath - you're about to emerge into a dazzling stained glass kaleidoscope sparkling like a million multi-faceted jewels framed by narrow 50-foot stone columns. Overhead, a vaulted dark-blue ceiling studded with golden stars seems to float in the light-filled space.
On closer inspection, you can see many different scenes - 1,113 in all - in the 15 stained glass windows. Most depict Biblical scenes from the Old and New Testaments - if you want to "read" them in chronological order, go left to right, bottom to top. At the chapel's west end, a magnificent rose window composed of 86 stained glass panels shows the Apocalypse of Saint John. When you reach the last window on the right end of the south wall, look closely and you'll see something different: scenes of King Louis IX bringing the Crown of Thorns and other relics back to Paris.
Although the brilliant colored glass steals the show, don't miss the chapel's other rich ornamentation: lavish gilding, lushly painted medieval frescoes, countless carvings, and magnificent statues of the 12 Apostles standing in the alcoves.
Superb acoustics, along with the chapel's magnificent beauty, also make Saint Chapelle a popular place for hearing baroque and classical music evening candlelight concerts - an experience you should not miss!
Top photo: Psyche revived by Cupid's Kiss - 18th century Italian sculpture by antonio Canova in the Louvre Museum's Richelieu Wing.
How to Visit the Louvre Museum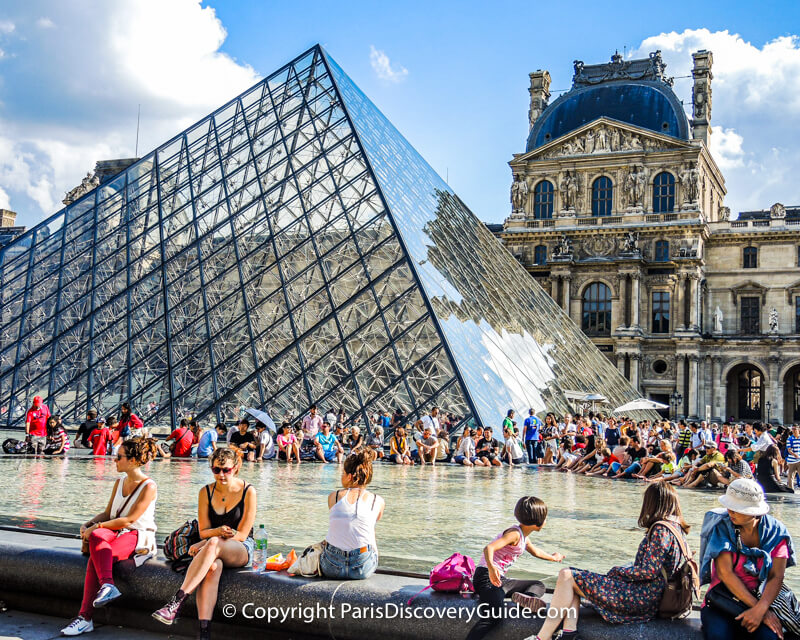 What's the best way to explore the Louvre Museum?
You have two excellent choices: join a guided tour and if you wish, stay longer and see more after the tour ends, or explore on your own.
But here's the key thing to know: if you are visiting during the most popular times of the year - generally early April through mid-November, as well as much of December - you need to have skip-the-line entry tickets in order not to waste time waiting in line for 2-4 hours. (Remember those xx million visitors who come here each year?)
In fact, during the peak of the international tourist season from mid-June through August, the Louvre does not guarantee you'll get in unless you get your ticket in advance.
Fortunately, whether you choose a guided tour or exploring on your own, getting advance tickets with skip-the-line privileges is easy to do if you plan ahead. The next section tells you how.
How to Get Louvre Museum Skip-the-Line Admission Tickets
Guided Tours of the Louvre with Skip the Line Tickets
Here's the most important thing (assuming you don't want to waste hours standing in admisssion lines) to know about Louvre Museum guided tours: they all include skip-the-line fast-track entrance through a special group-only gate. You will still need to go through a security check, which is usually fast and easy.
If you are visiting for the first time, a tour led by an experienced guide will make sure you see the most famous art spread out over the museum's three enormous wings, and will tell you interesting stories and details about what you're seeing.
Most guided tours of the Louvre last about two hours - ideal if your time is limited. And, if you are visiting during the late spring, summer, and early fall when the Louvre gets packed with visitors, the tour guides help you navigate through the crowds around the most popular exhibits such as the Mona Lisa. After the tour ends, you can stay if you'd like and explore more on your own.
A popular choice is the small group "Ultimate Louvre" tour designed by Get Your Guide to include all the top sights.
But depending on your interests, you may prefer one of the many other guided tour options, including tours for families with kids, evening tours, shorter tours, and combo tours.
- Find all the best ways to see the Louvre
How to Get Skip-the-Line Admission to the Louvre
What if you want to visit the Louvre Museum on your own - without taking a guided tour - but still get skip-the-line admission?
No worries. Here are two easy ways to do this:
1. Timed Entrance Tickets to the Louvre Museum
A timed entrance ticket gives you skip-the-line access and is a great option if you know the date and time when you want to visit the Louvre.
Here's how it works: You buy your ticket online in advance of your visit. On your chosen date and time, go to the Priority Access sign at the entrance, show your ticket, go through a security check, and enter the museum.
Please note: Louvre admission tickets often sell out several days or even a week or more in advance during June, July, August, and occasionally at other times. DO NOT wait until the last minute to reserve one!
2. Skip-the-Line Access with a Paris Museum Pass
A Paris Museum Pass gives you skip-the-line entry to the Louvre Museum, plus 60+ other Paris attractions such as the Orsay Museum, Picasso Museum, and Arc de Triomphe Roof Top.
Here's how it works: Choose a 2, 4, or 6 day pass when you buy the card. The pass becomes "active" on the first day you use it - so if you buy a 4-day pass and use it first on a Monday, the card will be valid through Thursday.
Here's why it's useful: If you plan to visit other Paris museums and monuments, the Paris Museum Pass can save you a lot of money - plus once you've bought the card, you get free skip-the-line admission at all of them.
In addition, the pass gives you flexibility. Unlike timed entrance tickets, you can go whenever you want and visit attractions more than once. So let's say you have a "bucket list" of things to see at the Louvre but prefer to spend only an hour there each day. With a 6-day pass, you can go every day - and even if you don't visit any other attractions, you'll still save money compared with buying six timed entrance tickets. And of course you get skip-the-line admission each time you visit.
Visiting the Louvre with Your Family?
Anyone under 18 and EU residents under 26 get free Louvre entry (with a valid ID). If you're planning to use a timed admission ticket or Paris Museum Pass that gives you skip-the-line access and are bringing your under 18/26 kids or other visitors with you, they will also be able to benefit from your skip-the-line ticket or Pass.
Louvre Museum FAQs
What is the best day to visit the Louvre?
Here's the most important thing (assum
in order to maximize your enjoyment of your visit, you should definitely get your tickets in advance in order to avoid wasting hours standing in line. For your first (or even your second, third, or fourth) visit, you should strongly
This basic Sainte Chapelle entrance ticket through Get Your Guide lets you walk right past the ticket line and gives you priority entry access to the security check line and entrance. You'll be given a complimentary brochure that tells you exactly what to look for in each window. If you're visiting with your family, lease note that free admission is available for all visitors under 18 (photo ID required) and EU/EEA visitors 18-25 (photo ID required).
Other options for skip-the-line entry: If you plan to visit other Paris museums and monuments, the Paris Museum Pass can save you a lot of money. Not only does provide it give you free entry to Sainte Chapelle, but you can also use it for skip-the-line admission to 60+ other Paris attractions such as the Louvre, Versailles, and Arc de Triomphe. Choose a 2, 4, or 6 day pass.
Paris Pass Lib' is a similar option - but in addition to free skip-the-line access to 60+ attractions including Sainte Chapelle, you also get a hop on/hop off Big Bus sightseeing tour, a Seine River cruise, and free travel on the Paris public transportation system while your pass is valid.
Combo Skip-the-Line Tickets to Sainte Chapelle + Conciergerie
Save money when you get a combo skip-the-line ticket giving you entrance to both Sainte Chapelle and the Conciergerie, the famous medieval prison where Marie Antoinette awaited her fate at the guillotine during the French Revolution.
Recommended Guided Tours of the Louvre
If you prefer the personal touch of a guided tour, this small-group tour of Sainte Chapelle and Notre Dame Cathedral gives you skip-the-line access to both places as well as to the Towers of Notre Dame, where you'll have panoramic views of the city.
There are plenty of other options for exploring Sainte Chapelle and nearby Île de la Cité attractions available as well - you can check them out here.
Sainte Chapelle Concert Schedules & Tickets
For a memorable experience as well as the chance to see by this beautiful medieval venue by candlelight, attend a classical music concert on Saint Chapelle's second floor chapel, surrounded by the sumptuous stained glass.
Concerts usually take place 2-3 times each week. You can see the complete Sainte-Chapelle concert schedule and get your tickets here. To maintain the intimate feel of this unique space, most concerts seat only 200 - so don't wait to get your tickets, as availability is often limited. Tickets are provided through ClassicTic, Sainte-Chapelle's official ticket partner.
Interested in concerts at other Paris venues? You can find the complete schedule here.
Louvre Museum Hours & Location
Open: Daily - Monday through Sunday
Closed: January 1, May 1, December 25
Schedule:
October 1 - March 31: 9am - 5pm
April 1 - September 30: 9am - 7pm
Last admission is 30 minutes before closing
Louvre Location: 8 Boulevard du Palais, 1st arrondissement. Sainte-Chapelle is located on the Île de la Cité near Notre Dame and the Conciergerie. 
Louvre GPS Coordinates: Latitude - 48.8554; Longitude: 2.3450
Nearest Metro to the Louvre: Line 4, Cité station
Nearest Bus Lines with Stops near the Louvre: Lines 21, 27, 38, 85, 96 and Balabus (Notre Dame or Hotel de Ville stop)
What You Should Know Before You Visit the Louvre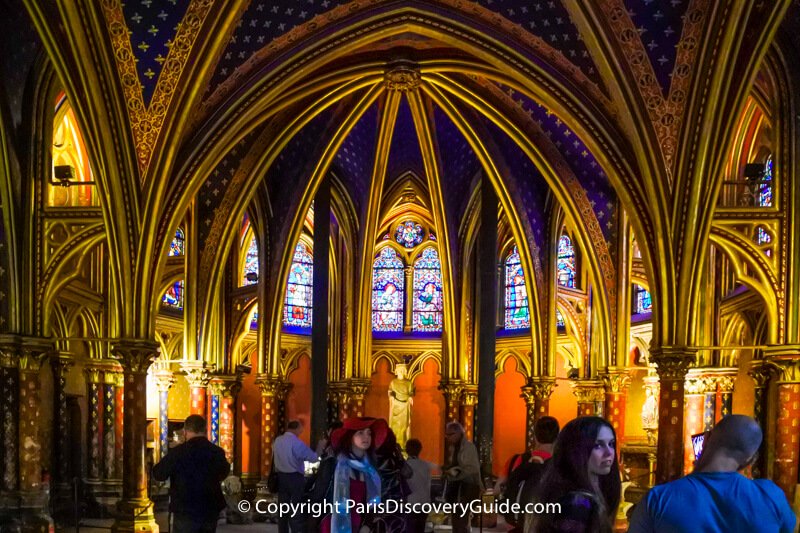 More about the Louvre Museum - Interesting Facts
What Was the Louvre Before It Was a Museum?
How Large Is the Louvre Museum?
Famous Art in the Louvre Museum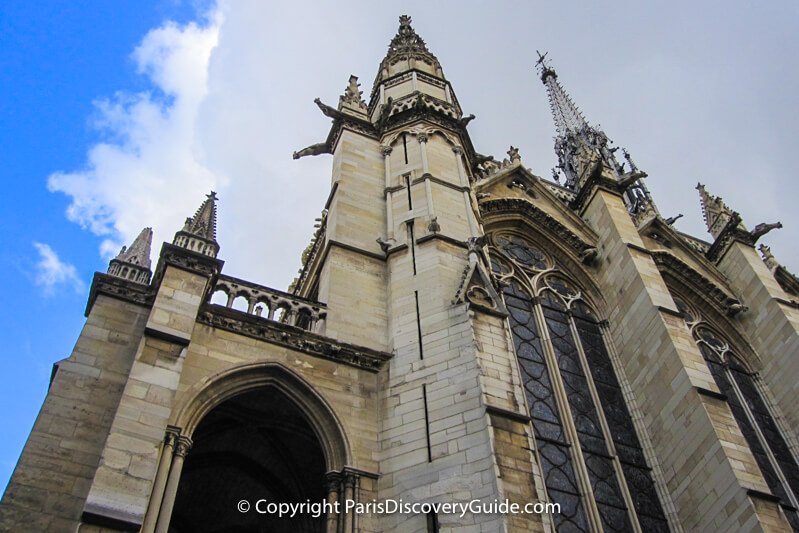 Paris Hotels near the Louvre Museum
Staying near Sainte Chapelle and Île de la Cité puts you in a wonderful location for exploring the many historic attractions, beautiful parks, and excellent bistros and restaurants in this central part of Paris. Here are several excellent choices within a 5-minute walk:
Want more ideas? Check out:
Where to Eat near Sainte Chapelle
Two nearby bistros on Boulevard du Palais (the same street where Sainte Chapelle is located) are popular choices, especially if you want a relatively quick bite or just a drink: Les Deux Palais, almost directly across the street, and Paris en Scène, on the corner across from the Right Bank.
If you have more time, walk around the corner and follow the road along the river to Place Dauphine (1 block away - see the map below). You'll see 8-10 small restaurants and cafes lining the square. Check the posted menus to find what you like - all are good.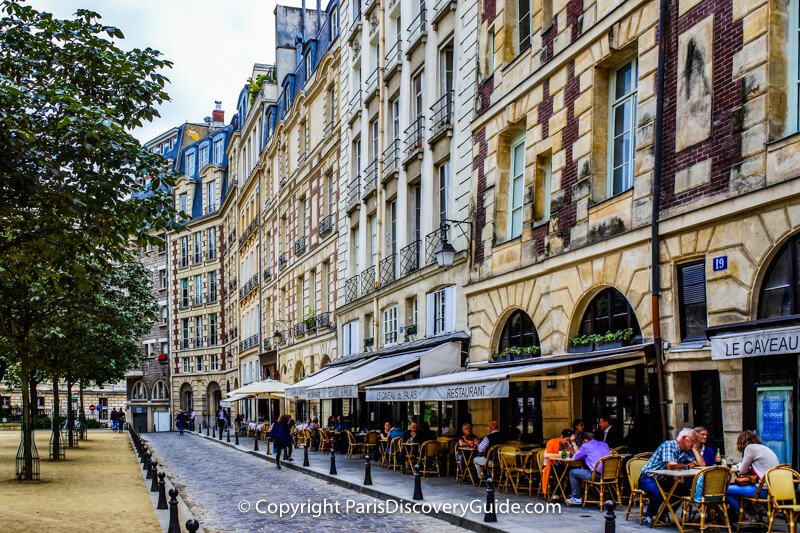 Map of Sainte Chapelle Location
More to See & Do near Sainte Chapelle
Want to Save on Your Paris Hotel?
Check our tips on how to find discounts, deals, and bargains for Paris hotels. Whether you're looking for cheap accommodations or want to pay less for luxury, we'll show you How to Save on Hotels in Paris.
See Trip Advisor's Best Value Deals to save BIG on your Paris hotel