Even though the Arc de Triomphe is one of Paris's most famous monuments, right up there with the Eiffel Tower and Sacre Coeur as instantly-recognizeable icons of the city, nothing quite prepares you for its massive size and grandeur when you stand next to it and gaze up at the top.
Napoleon planned it that way when he ordered its construction in 1806.
By then, he'd been Emperor Napoleon for two years. With many military victories to his credit during the French Revolution and a recent victory at Austerlitz, he wanted a highly-visible memorial to honor everyone who had fought and died for France during that period - and, of course, to celebrate his own triumphant rise to political power across Europe.
But, delays happened. The Arc did not get completed until 30 years later, and by then, Napoleon was long dead. Although his remains eventually got to pass through it en route to their final tomb at Les Invalides, he never got to experience the thrill of passing through the grand arch while alive.
Today, two centuries later, your Arc de Triomphe experience will be quite different from anything Napoleon might have imagined.
Head up to the arch's rooftop (get a skip-the-line ticket before you go, or use a Paris Museum Pass or Paris Pass) to see the entire City of Light spread out before you. There's no better place to feel the magic of Paris, one of the world's most beautiful cities.
In this article, we share the five most memorable ways for you to explore and enjoy the magnificent Arc de Triomphe, plus more to see and do nearby.
From the ground level, check out the elaborate bas-relief sculptures showing military victories embellishing the sides of the enormous pillars and encirculing the monument's top.
Napoleon probably never imagined the arch's rooftop as one of the best places in Paris to enjoy
What will you experience when you visit this iconic site two centuries after its construction? Should you make a up-close visit, or is viewing it from a distance enough?
Visiting the Arc de Triomphe and exploring it from ground level is actually quite interesting and you can do so for free, but to be dazzled by some of the best views of Paris, get a skip-the-line ticket (or and go up to the rooftop.
You'll see the city laid out before you in a 360 degree panorama, with famous sites such as the Eiffel Tower easy to spot.
Are the views from the Arc's rooftop terrace even better than those from the Eiffel Tower? You be the judge!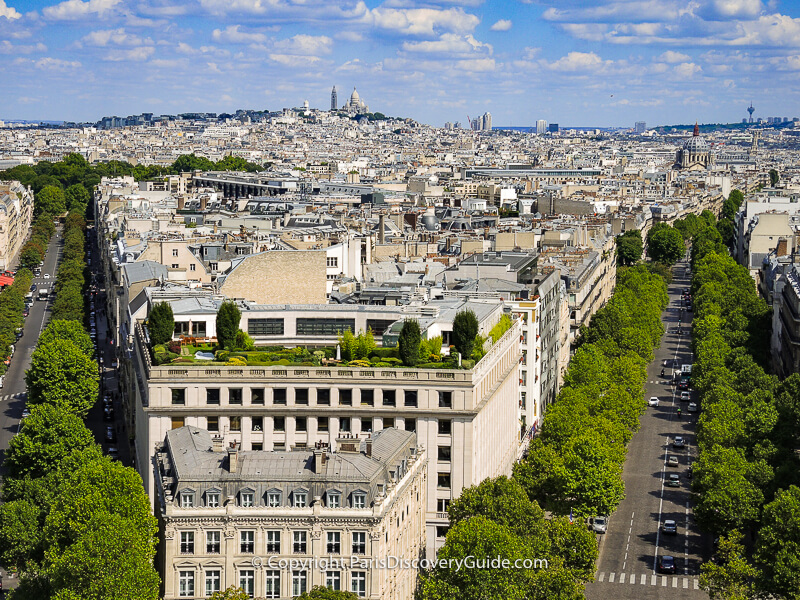 Today, the Arc de Triomphe anchors Paris' most important celebrations and ceremonies: the Bastille Day Fête Nationale military parade, the Paris Marathon, the Tour de France. If you're in Paris on New Year's Eve, you can watch a dazzling light show against the massive arch as you stand shoulder to shoulder with other revelors on the Champs Élysées.
Views of the Arc de Triomphe dominate Paris's most famous avenue, , as well as the 11 other avenues that converge at the small plaza surrounding the arch; in fact, you can catch glimpses of it from other points in the city. It is the starting or end point of many top Paris celebrations: the Paris Marathon, the Tour de France, the Bastille Day Parade, a New Year light show.
If you've ever seen the Arch of Titus in Rome, you probably already know what inspired Napoleon's design, altlhough in addition to being much larger, the Arc de Triomphe has an additional although smaller arch running through the
Top photo: Arc de Triomphe
The 5 Most Popular Things to Do at the Arc de Triomphe
What's the best way to experience the Arc de Triomph?
Here are our top 5 recommendations:
1. View All of Paris from the Arc's Rooftop Terrace - ISABEL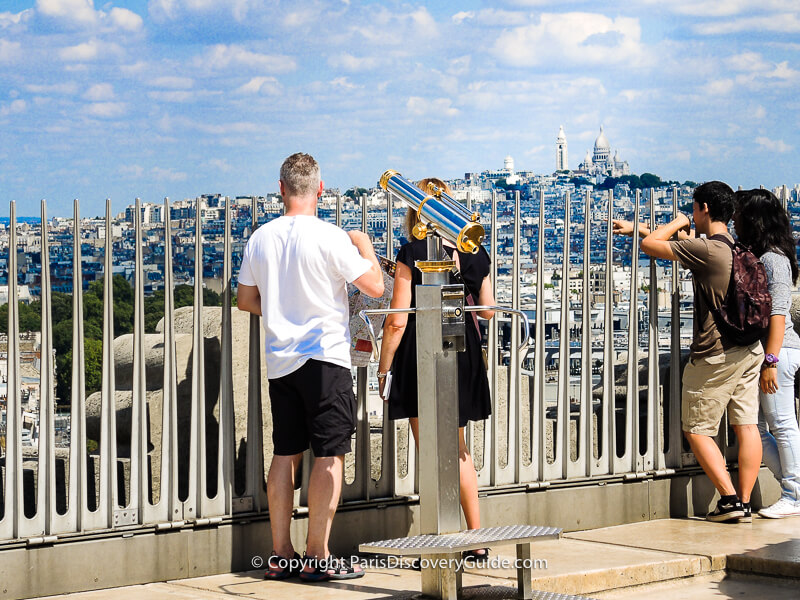 xxx
(Possible sentence to use) Time your visit right, and you can watch a stunning sunset leave streaks of gold, apricot, and lavender across the sky.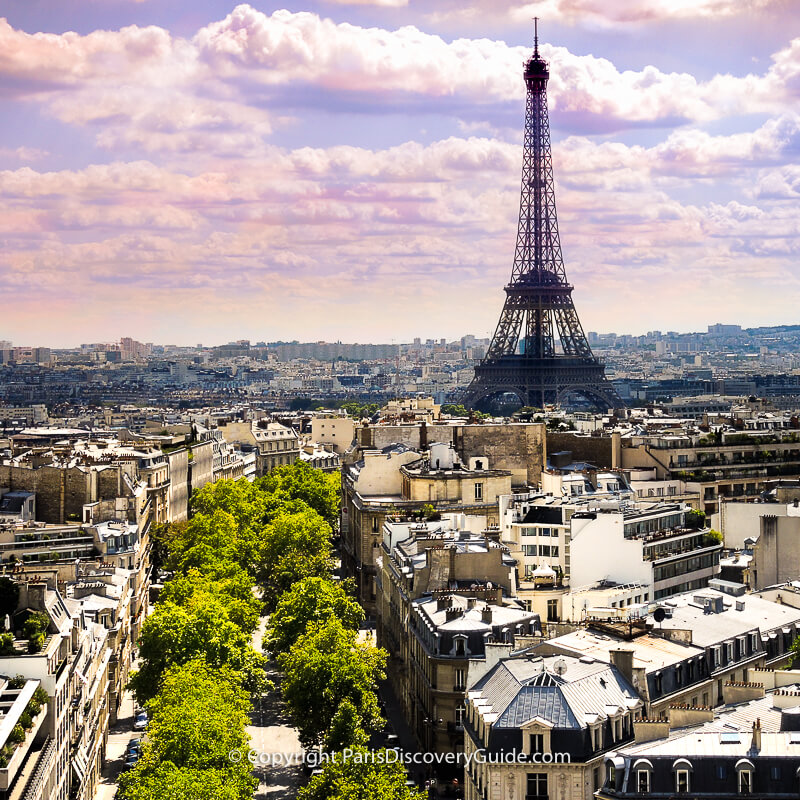 2. Check Out the Arc's Inscriptions & Decorations - ISABEL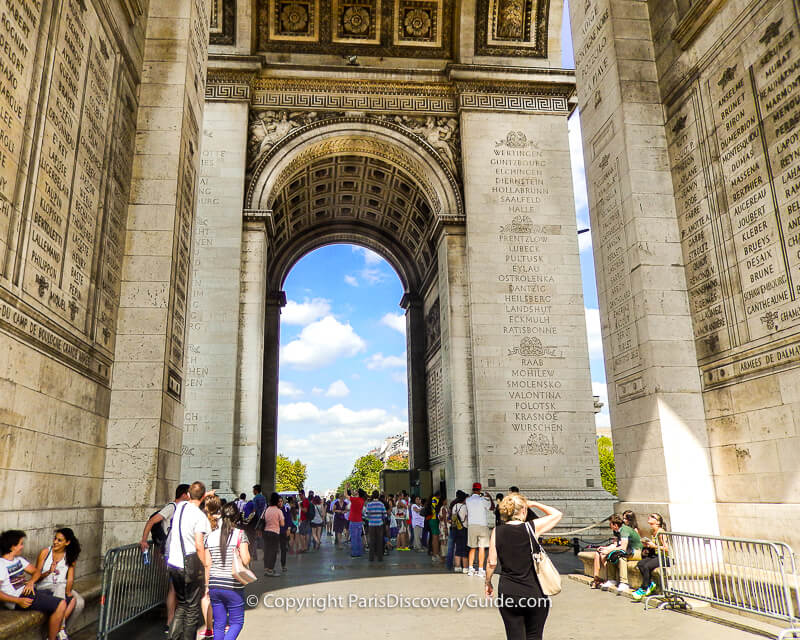 explain what the words are
3. Pay Your Respects at the Tomb of the Unknown Soldier - ISABEL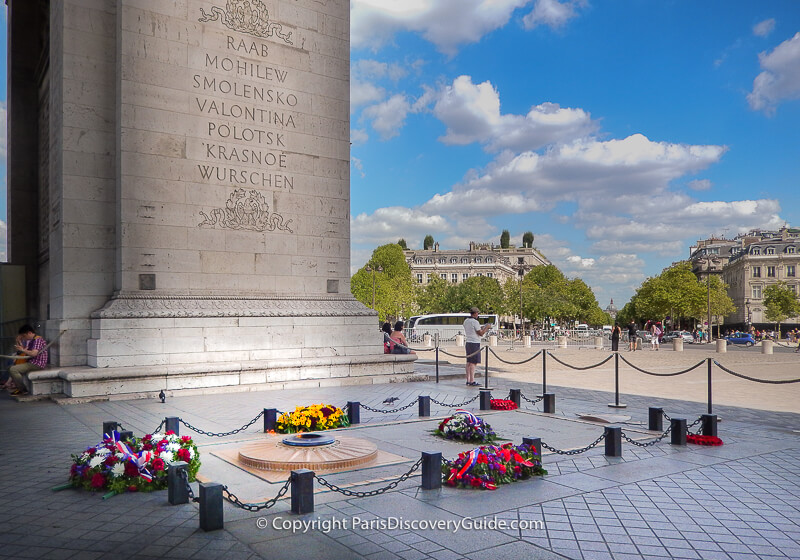 Explain what the unknown soldier represents and the importance. Mention the eternal flame
4. Admire the Arc de Triomph from a Car-Free Champs Élysées - SUSAN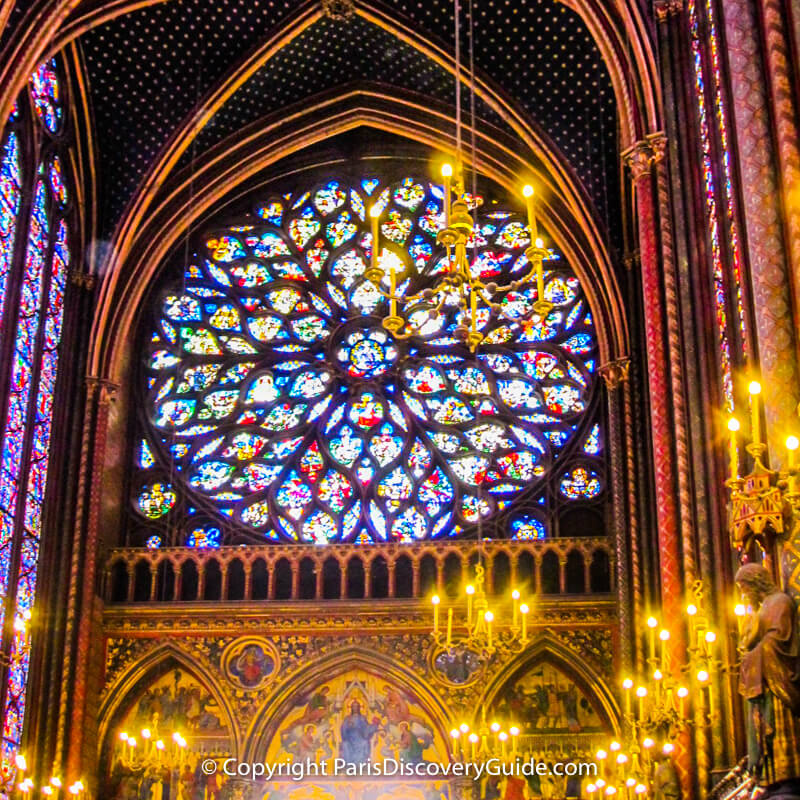 Include holidays - Bastille day parade, NY Eve Light show, Marathon
For a memorable experience as well as the chance to see by this beautiful medieval venue by candlelight, attend a classical music concert on Saint Chapelle's second floor chapel, surrounded by the sumptuous stained glass.
5. View the Arc from the Grande Arche - Susan
Concerts usually take place 2-3 times each week. You can see the complete Sainte-Chapelle concert schedule and get your tickets here. To maintain the intimate feel of this unique space, most concerts seat only 200 - so don't wait to get your tickets, as availability is often limited. Tickets are provided through ClassicTic, Sainte-Chapelle's official ticket partner.
Interested in concerts at other Paris venues? You can find the complete schedule here.
Arc de Triomphe Hours, Location, & Map - ISABEL
Open: Daily - Monday through Sunday
Closed: January 1, May 1, December 25
Schedule:
October 1 - March 31: 9am - 5pm
April 1 - September 30: 9am - 7pm
Last admission is 30 minutes before closing
Location: 8 Boulevard du Palais, 1st arrondissement. Sainte-Chapelle is located on the Île de la Cité near Notre Dame and the Conciergerie. 
Metro: Line 4, Cité station
Bus: Lines 21, 27, 38, 85, 96 and Batabus (Notre Dame or Hotel de Ville stop)
Batobus: Champs Élysees stop - Get Batobus hop on hop off river cruise tickets BATOBUS BLURB IS DONE
Map of Arc de Triomphe Location - ISABEL
Things to Know Before Your Visit - ISABEL
SUSAN: Unless you are visiting on a car-free Sunday or other occasion when the circular roadway around the Arc is closed to traffic, NEVER try to cross the roadway by foot unless you have a death-wish. (Even if you do, don't.) ALWAYS get to the Arc via the pedestrian tunnel located where Avenue de la Grande Armée dead-ends at the traffic rotary.
Sainte-Chapelle - Due to security considerations, the maximum allowed bag size is 40 x 40 x 20 cm (7.9 x 7.9 x 15.7 inches). No onsite storage facilities are available for bags of this size or larger.
The ground level around the Arc is totally wheelchair accessible (and so is the pedestrian tunnel). You can also take an elevator nearly to the top of the arch. BUT...to reach the rooftop observation deck, you have to climb XX rather steep steps. (ISABEL - please verify what I wrote - it's possible that they have an elevator to the top now - but find the # of steps if they don't.)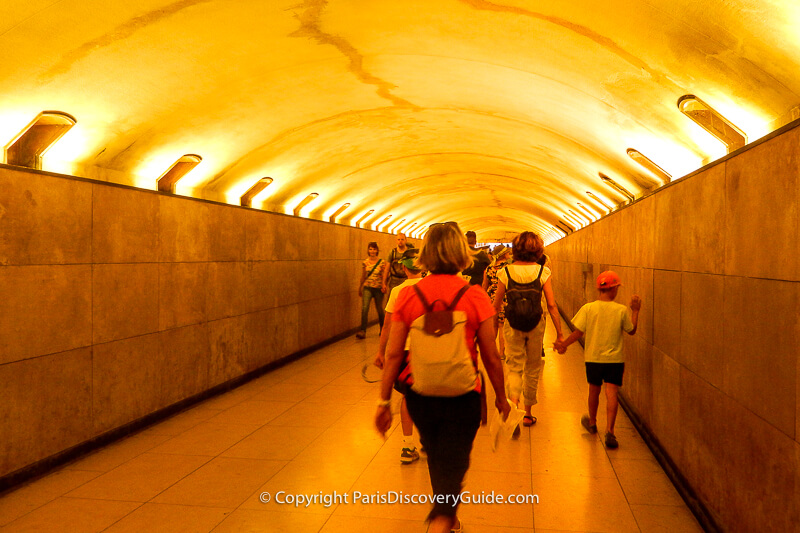 7 (or whatever) Interesting Facts about Arc de Triomphe - ISABEL
1. The full name of this famous arch is actually Arc de Triomphe de l'Étoile ("Triumphal Arch of the Star"). Why "star"? Well, if you were to look down at that's the 12 avenues and streets converging on the Place de Étoile, the circle where the Arc is located, that's what it looks like - a 12-pointed star. SUSAN - DONE
2. Although the Arc de Triomphe looks large when you're standing on the ground looking up - and in fact is, with a height of xxx feet (n m) and width of nnn feet (n m), it is not the biggest arch in the vicinity.
Photo - SUSAN
That honor goes to the Grande Arche in La Défense which soars to xxx feet (nn m) high and measures xxx feet (ss m) across.
Photo - SUSAN
However, the Arc de Triomphe does dwarf the Arc de Triomphe du Carrousel, a relatively petite 63 feet (19 m) high and 75 (23 m) wide located between the Louvre and Tuileries Garden.
3. XXX Pope Boniface VIII canonized Louis IX as a saint in 1297, the only French king awarded this distinction. Île Saint-Louis, the small island in the Seine River next to Île de la Cité where Sainte-Chapelle is located, is named after him (as is Saint Louis, Missouri, along with many other places around the world).
4. XXX The king ordered the best stained glass craftsmen from the recently-completed Chartres Cathedral to create Sainte Chapelle's windows, and if you visit both places, you can see similarities: brilliant colors surpassing the simplicity of the windows' designs.
5. xxx Although Sainte Chapelle sustained heavy damage during the French Revolution and required extensive renovation, much of the stained glass escaped destruction. About two-thirds of what you see today is original, dating back to the 13th century and making it the oldest surviving stained glass in Paris.
6. To protect the priceless treasures from destruction by the Nazis during World War II, workers removed and carefully labeled every piece of glass prior to the German invasion, and then replaced them after the war.
7. Sainte Chapelle's 275-foot spire dates back only to 1853. The chapel's previous four spires burned down.
8. A 7-year project to clean and restore Sainte Chapelle's stained glass completed a few years ago, leaving the windows more sparkling and beautiful than ever.
9. The Rose Window is most brilliant right before sunset as almost-horizontal streams of light shine through the glass.
10. As a French cultural site, Sainte Chapelle offers free admission for all visitors under 18 (photo ID required) and EU/EEA visitors 18-25 (photo ID required).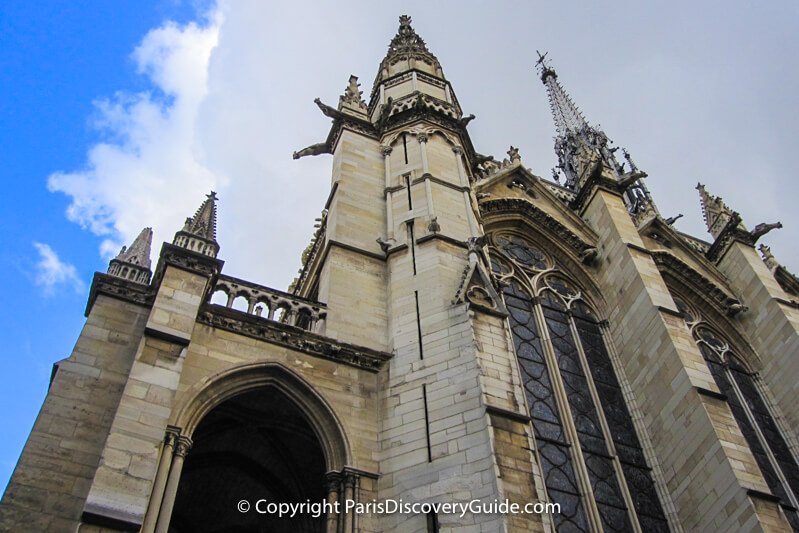 Where to Stay near Arc de Triomphe - SUSAN
Staying near Sainte Chapelle and Île de la Cité puts you in a wonderful location for exploring the many historic attractions, beautiful parks, and excellent bistros and restaurants in this central part of Paris. Here are several excellent choices within a 5-minute walk:
Hotel Britannique - Romantic boutique hotel on the Right Bank across from Île de la Cité and Sainte Chapelle
Book best deals
Relais Hôtel du Vieux Paris - Charming 4-star boutique hotel in a historic 15th century building in the Latin Quarter - just a quick walk across the Pont Saint-Michel bridge to Sainte Chapelle
Book discount deals
Hôtel Europe Saint Séverin Paris - Small Latin Quarter hotel close to Sainte Chapelle, Notre Dame, and the Pantheon; request a room with a balcony!
Find best rates
Want more ideas? Check out:
---
Map Showing More Paris Hotels
Use this Paris hotel map to find more hotels near Sainte Chapelle:
Check out the newest Paris hotels
Where to Eat near Arc de Triomphe - SUSAN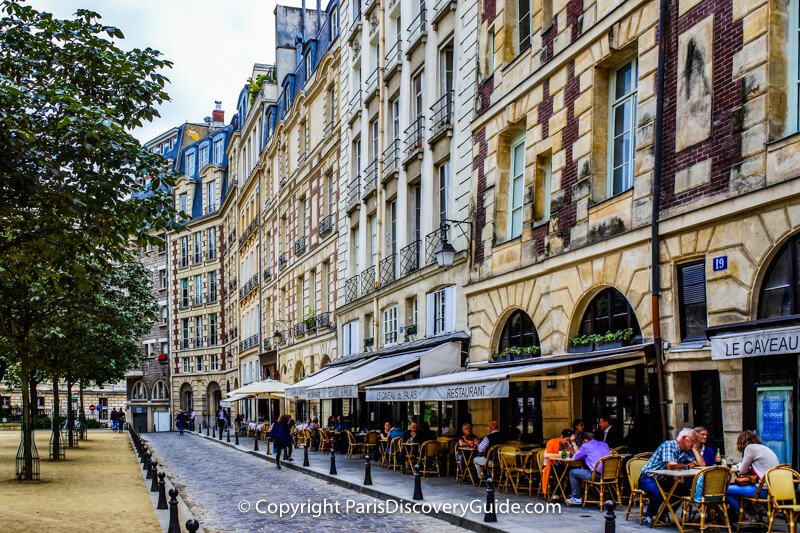 Les Deux Palais, almost directly across the street (Boulevard du Palais), is a popular place for simple brasserie fare: salads, steak-frites, pastas, or just a drink.
If you have more time, walk around the corner and follow the road along the river to Place Dauphine (1 block away - see the map below). You'll see 8-10 small restaurants and cafes lining the square. Check the posted menus to find what you like - all are good.
Place Dauphine is one of those quiet, hidden spots in Paris known to locals but usually not discovered by visitors.   Enjoy the small shops and eateries.
More to See & Do near Arc de Triomphe