Top Paris events in November 2020 include Armistice Day ceremonies, lots of wonderful concerts and museum shows, and the chance to immerse yourself in all things chocolate at the popular Salon du Chocolate show packed with demos, tastings, and even a fashion show.
By the second week in November, the big Paris department stores unveil their spectacular holiday window displays and dazzling lights and decorations begin to sparkle across the city.
You may notice the days getting shorter and the air crisper, but November weather in Paris usually offers mellow sunny days for enjoying the changing leaf hues.
Stroll through any of the city's many parks such as Tuileries Garden and Luxembourg Garden to soak up the fall foliage colors and enjoy the last late-blooming flowers.
Want to get a taste of the holiday season? Head to Disneyland Paris where Christmas celebrations begin during the second week of November. Toward the middle of the month, you can even start visiting festive Paris Christmas markets and enjoying the hot mulled wine, regional food specialties, and gift shopping.
Save on your Paris travel with Black Friday sales on tours, flights, hotels, & more
Top photo: Bouquiniste on the Left Bank of the Seine River
Paris Marathon 2020 (Rescheduled from April, and from October)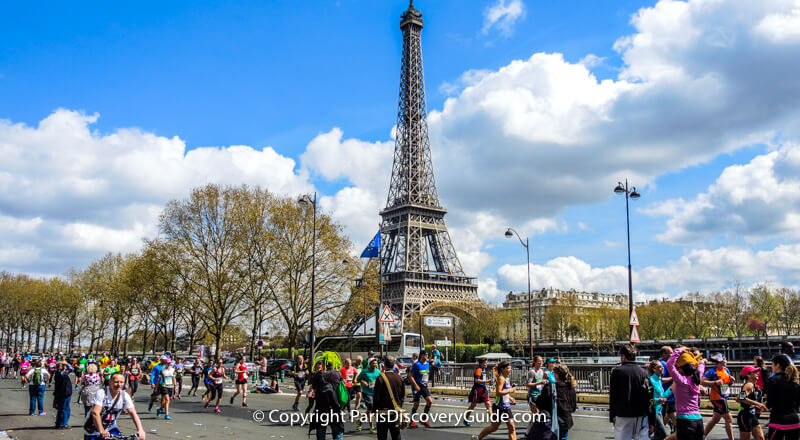 The Paris Marathon 2020 (rescheduled from April and then again from October due to the Coronavirus) kicks off on Sunday, November 15 at the Arc de Triomphe as runners (normally 65,000, although this year may differ) from 150 countries all over the world start the race course down Champs-Élysées and about a quarter of a million spectators line up along the 26.2 mile route to watch. The first group of Elite runners depart at 8:20am, with other groups following in waves until 9:50am.
Whether you're running or watching, the Marathon's mostly-flat 26.2 mile (42.2 km) route gives you spectacular close-up views of iconic landmarks such as the Eiffel Tower, Notre Dame, the Louvre, plus interesting tours of Paris's two huge wooded parklands. Thanks to the relatively flat route, the winner typically crosses the finish line in just over two hours, although you can still see plenty of runners along the route until at least mid-afternoon.
Events before the race include the 3-day Paris Marathon Expo at Porte de Versailles, where you can also pick up your bib, and an untimed 5K Breakfast Run on the Saturday before the race along a route past many of the famous sites that runners will see on the full Marathon route the next day.
Tips for how to make the most of your Marathon experience
Recommended hotels for the Paris Marathon
Things to Do in Paris in November
Visiting Paris in November? Enjoy these fun activities, including a few indoor choices in case the weather turns chilly:
- Paris Wine & Cheese Lunch - Love wine and cheese? In this small group experience in a beautiful tasting wine bar in a 17th century "hotel particulier" (private mansion) near the Louvre, you'll try 5 wines from different French regions and savor them with perfectly paired French cheese and charcuterie as you learn about their unique flavors and origins. Book now
- Paris Catacombs Skip-The-Line Ticket & Audio Guide - This best-selling experience takes you far below the streets of Paris into an immense maze of tunnels and rooms containing the skulls and bones of about 6 million Parisians. By the time you leave, you'll know all about where the dead go when Paris cemeteries fill up. Perfect adventure for a rainy day! Book now
- Moulin Rouge Show with Dinner Options - Enjoy a delicious dinner (vegetarian and vegan options available) and fantastic performance of the Féerie show at the legendary Moulin Rouge for a quintessential Paris night on the town! Book now
- Paris Christmas Lights Bus Tour - See all the fantastic holiday lights around the city! Starts on November 27. Book now
Paris Christmas Markets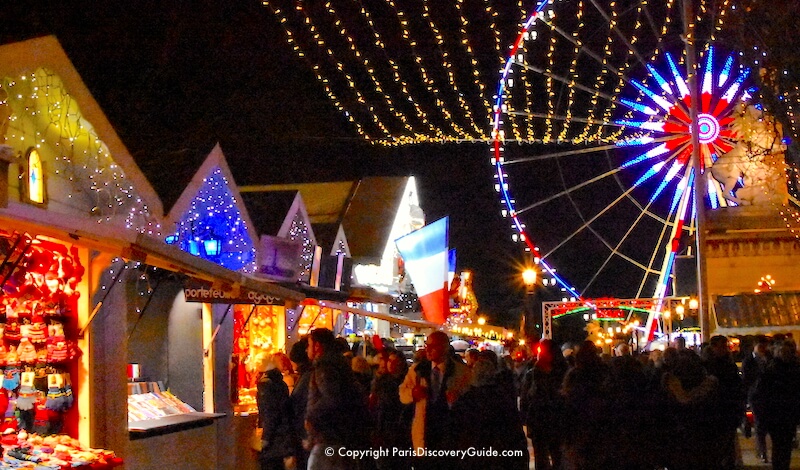 Sparkling lights and decorations, the smell of roasting chestnuts, cups of hot mulled wine, and Swiss-style chalets overflowing with special holiday foods, hand-crafted gifts, and decorations . . . Christmas Markets, a tradition since Medieval times, pop up all over Paris starting in late November.
Check the Paris Christmas Market Schedule for 2020
November Concerts in Paris - 2020
From opera to jazz to rock, you'll find concerts featuring every type of music you can imagine in Paris.
Short days and chilly nights make November an especially good month for classical concerts held in centuries-old churches. Look for candlelight concerts for a special experience!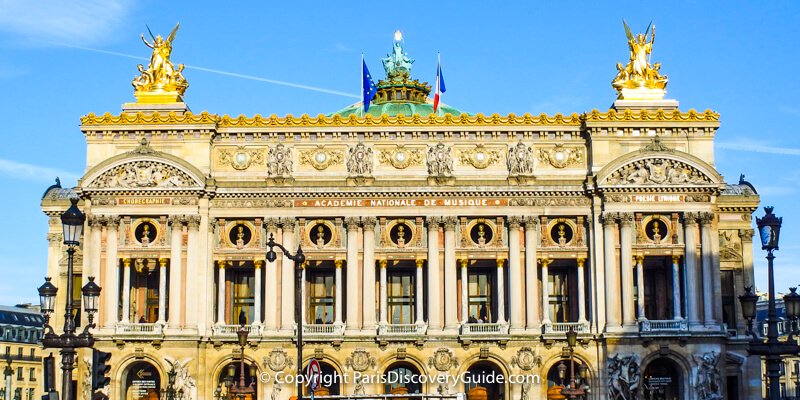 More Paris classical concerts, opera, & dance performances during November
More Paris rock, electronic, pop, jazz, & other performances during November
Find Paris concerts for other months
Salon du Chocolat - 2020
Part trade show, part entertainment, the Salon du Chocolat lets you immerse yourself in all things chocolate as over 200 chocolate producers, pastry chefs, candy makers, and artisans from around the world present five days packed with activities and events. You can attend cooking demos by top chefs at the Pastry Show, discover the wonders of chocolate at the Cacao Show, indulge in tastings at the Chocosphere, and enjoy a fashion show with models dressed in chocolate. Kids love the fun workshops - and of course, the chocolate.
When: Oct 28 - Nov 1 (tentative), open 10am-7pm each day
Location: Porte de Versailles, Pavilion 5
Getting there: Metro station and Tramway: Porte des Versailles, 15th arrondissement
Tickets: 14.20€ adults, 6,20€ children from 3-12, free for children under 3 - available at the door
Ticketmaster, and also at the door
More information: Salon du Chocolat website
Christmas at Disneyland Paris Starts in November - 2020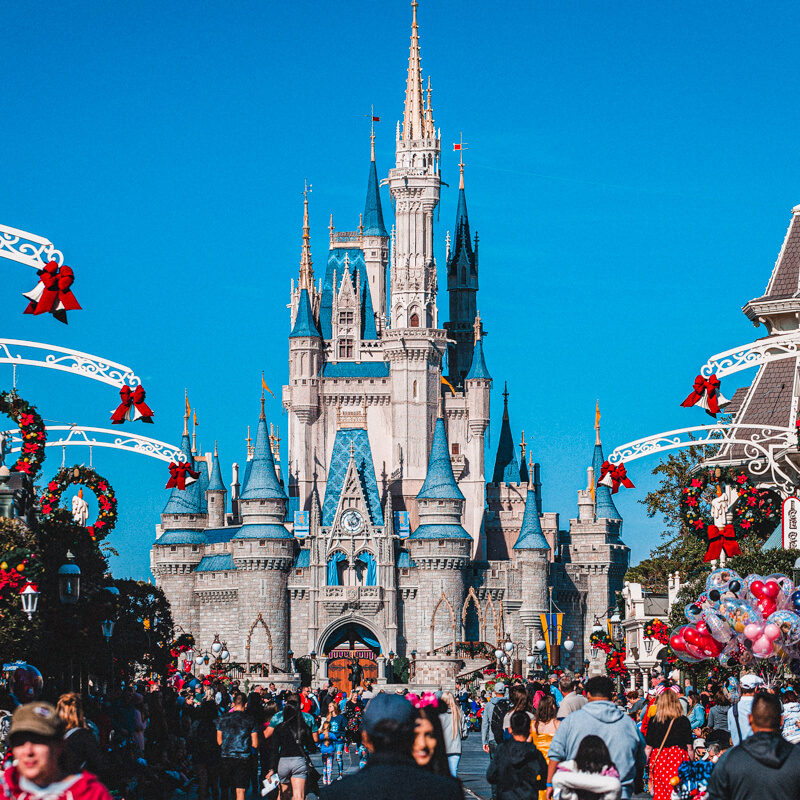 Enchanted Christmas celebrations start at Disneyland Paris in early November and continue into January with plenty of entertainment and holiday spirit for everyone.
You'll find a spectacular giant tree, entertaining shows, festive Christmas parades, and gorgeous holiday decorations everywhere. Each year brings new holiday features, lights, and shows at both Disney Parks, an immersive nighttime extravaganza, and singing carols with Santa, Mickey, and Minnie for a magical experience you won't forget.
When: November 7 - January 10

Disneyland Paris and Transportation
Take RER A to the Marne-la-Valée station across a small plaza from Disneyland Paris, and buy your tickets at the gate - or check out these options to make your trip faster and easier:
Paris Exhibits - Must-See Shows for November
November weather in Paris can be tricky, and you should always have a few bad-weather day activities in mind. Visit these museum shows when you want to stay warm indoors and immerse yourself in Paris's top cultural treasures: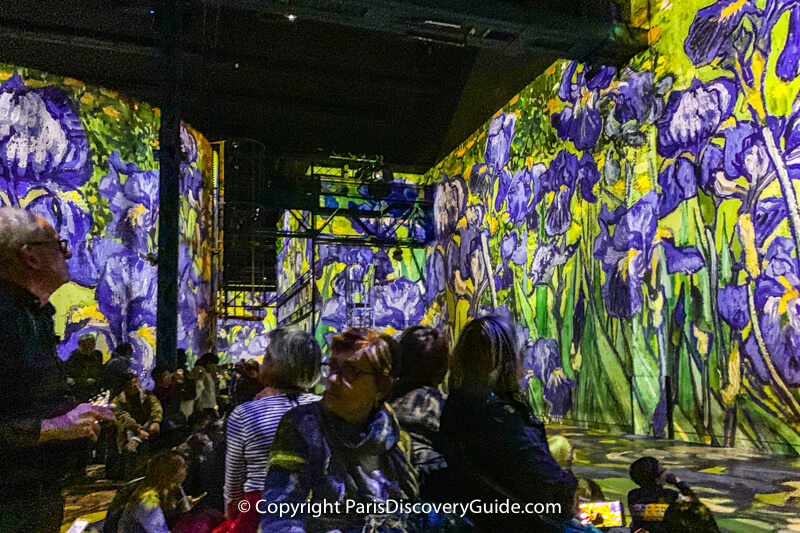 Aubrey Beardsley
@ Musée d'Orsay, Oct 13, 2020 - January 10, 2021 - Aubrey Beardsley died far too young but his bold, erotic, and imaginative drawings had an outsize impact on fin-de-siècle England. You'll see 100 of them in this importand show, plus posters and some of the his illustrations appeared.
Reserved-access tickets; free admission when you have a Paris Museum Pass
More about visiting Musee d'Orsay
Giorgio de Chirico: Metaphysical Painting
@ Musée de l'Orangerie, Through December 14, 2020 - This exhibition traces the artistic and philosophical influences on Giorgio de Chirico from Munich to Turin to Paris, and finally to Ferrara. Tickets 9€; free admission when you have a Paris Museum Pass
Location: Jardin des Tuileries, 1st arr. Nearest Metro : Concorde
The Golden Age of Danish Painting
@ Petit Palais, Through January 3, 2021 - More than 200 works by leading Danish artists from the "golden age" between 1800-1864. Show tickets 12€. (Free admission to Petit Palais' permanent collection)
Location: Petit Palais, Avenue Winston Churchill, 8th arrondissement
Nearest Metro: Champs-Élysées-Clemenceau
More info: www.petitpalais.paris.fr
Monet, Renoir, Chagall - Journeys Around the Mediterranean
@ Atelier des Lumières - February 28 through January 3, 2021 - Immersive video/digitized exhibition of Monet's, Renoir's, and Chagalls's masterpieces accompanied by original music. Tickets must be purchased online on the L'Atelier website
Open: 7 days/week
Where: 38 Rue Saint Maur, 11th arrondissement
Metro: Saint-Maur

Picasso & the Comic Strip
@ Picasso Museum, Through January 3, 2021- Picasso loved comics! This fascinating, illuminating, and entertaining exhibition is the first devoted to taking a close look at the influence of graphic arts on his work - and vice-versa.
Admission: Exhibit included with museum admission. Get skip-the-line priority tickets online or with a Paris Museum Pass
Location: 5 rue de Thorigny, 3rd arrondissement; closed Mondays
Metro: Saint-Sébastien-Froissart
---
Paris Museum and Attractions Passes
Get free admission and skip-the-line access to 60+ museums in and near Paris when you have a Paris Museum Pass for 2, 4, or 6 days. (Access to special shows may require an additional ticket.) More info
Christmas Window Displays in Paris - Schedule - 2020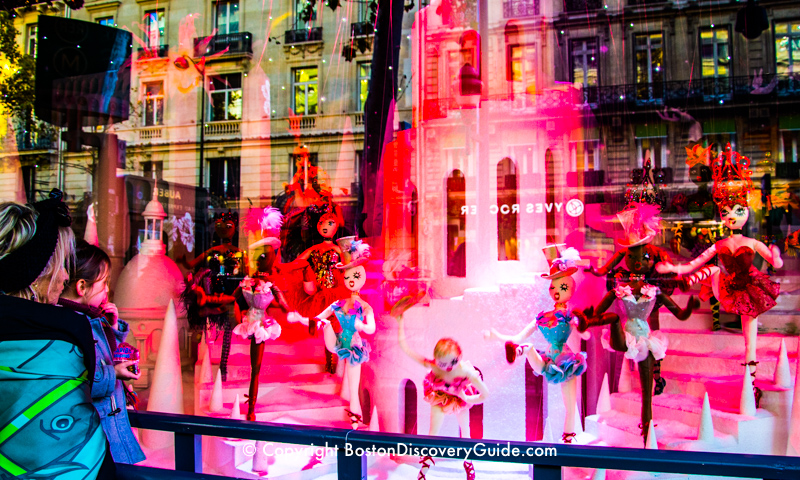 The four famous big Paris department stores - Galeries Lafayette, Printemps Haussmann, Bon Marché, and BHV Marais - reveal their spectacular decorations in early November, usually during the second week of the month but sometimes as early as November 1. The imaginative Christmas window displays enchant adults and children alike, and become more fantastic and animated each year - and of course draw shoppers inside where more dazzling decorations create holiday cheer.
Galeries Lafayette boasts the most elaborate - and most anticipated - windows, inspired by a different theme each year. For example, if the theme is bees, you'll see them working in their kitchens, preparing for a holiday party, and conducting a royal procession for the Queen Bee. The traditional Christmas tree inside the cupola will also feature magical bees along with winter flowers. Every half hour, you'll see the tree's lights fade as bees fly around the cupola and put on a spectacular show.
Want to join the crowds of fans that gather for each Parisian department store's annual holiday windows "reveal" ceremony? Here's the tentative schedule for 2020:
Le Bon Marché Rive Gauche (Le Bon Marché Rive Gauche - 24 rue de Sèvres, 7th) - Christmas windows for viewing with 2020's theme of fir trees: November 6
BHV Marais (52 rue de Rivoli, 4th) - Christmas windows "reveal" - November 9
Galeries Lafayette (40 boulevard Haussmann, 9th) - Christmas windows ceremony - November 18
Printemps Haussmann (64 boulevard Haussmann, 9th) - Christmas windows on display: Mid-November
More about holiday window displays and Christmas decorations in Paris department stores
Armistice Day Ceremony in Paris - November 11, 2020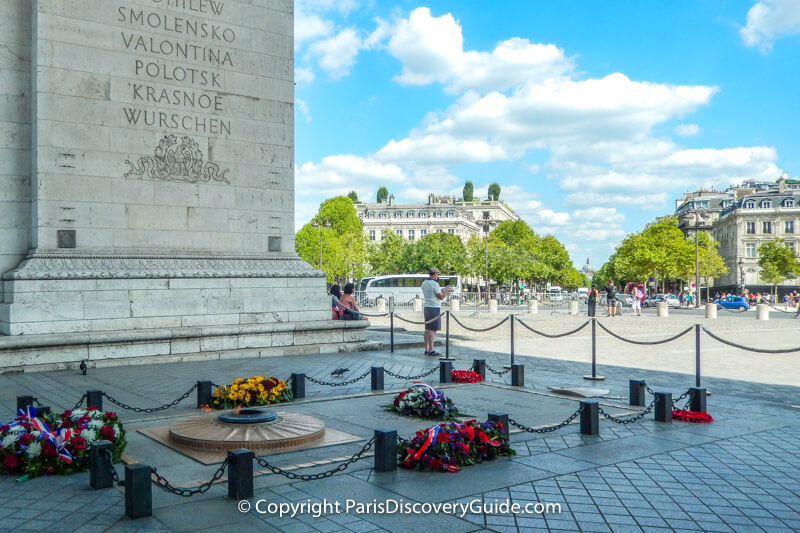 Pay your respects to those who died or were injured during war - almost 1.6 million French soldiers died during World War I and II combined - on Armistice Day, November 11. Armistice Day was established on November 11, 1918 as combat ended during World War I - the "war to end all wars."
In a somber ceremony at the base of the Arc de Triomphe, the French president inspects the troops and lays a red, white, and blue wreath near the eternal flame at the Tomb of the Unknown Soldier, which honors all French troops who died in the war.
When: 11am, November 11
Want to know more? Visit the Georges Clemenceau Museum (8 rue Benjamin Franklin, 16e); Clemenceau became France's prime minister in 1917 and orchestrated both France's final assaults on the Axis powers as well as the armistice agreement after the Allied victory. Usually open only in the afternoon; check hours
Visit World War I battlefields - These special small-group and private tours take you to visit the most famous World War I French battle sites, museums, and memorials:
Aisne, Marne and Belleau Wood - Explore sites of these important battles involving American troops, the Museum of the Great War in Meaux, and cemeteries - More
Somme - Visit the famous battleground, Deville Wood cemetery, war memorials, and the Great War Museum in Peronne - More
Verdun and Meuse-Argonne - Tour these famous battlefields as well as the Fort of Douaumont, Château-Thierry, the Romagne War Museum, the Trench of Bayonets, and cemeteries - More
---
Paris Hotel Map
Planning to visit Paris in November? Use this Paris hotel map to find accommodations and make your reservation:
Check out the newest Paris hotels
More Top Paris Things to Do & See in November
Coming Soon: Christmas in Paris
How to celebrate Christmas in the City of Light: